Have you ever thought of how much wastage is there in your operations? From collecting and filing the paperwork to checking inventory and looking things up in loads of excel sheets, all of these tasks can be tedious and error-prone when done manually. Maintenance & field service automation software has the capability to handle all the mundane routine tasks efficiently, it also elevates your field team performance and frees up time for other tasks that hold real value and can drive more customers.
Eye-Opening Field Service Automation Statistics
It came as no surprise that more field service providers are adopting the automation technology nowadays, due to the amount of ease and efficiency it brings to the field service teams and their managers.
According to the Financesonlone.com website, many field service companies are getting the best results of their field service management software, which is indicated in the following statistics:
77% of field service organizations utilize on-premise field service management solutions
48% of field service organizations use field service management software
40% of field service organizations witnessed growth since they have started using field service management solutions.
A different type of statistics indicated that the proper use of data analytics has significantly contributed to enhancing performance, customer retention and service profits by the following percentage: 44% more performance, 42% more customer retention, and 18% more service profits.
With that said, you can imagine how crucial it is to sometimes give up on your traditional and paper-based ways of getting the work done and opt for more reliable and effective solutions.
And even though there are optimistic hopes for the future of automation in the field service industry, there is an undeniable hesitation of adopting new solutions or changing the methodology of how field tasks should be executed.
At Repzo, we believe technology is a potent power that can be a game changer. Thus, we'll show you how automation and its implementation in the field service management can help providers of every size deliver competitive services.
Why to Invest in Maintenance & Field Force Management Software?
There has been an urgent need for an all-inclusive field workers management software that leverages the power of cloud computing and utilizes the latest technology trends to boost the performance and efficiency of your field teams.
Reduce the Downtime
From scheduling your operations, mapping out preferred routes, dispatching the service team, to staying connected with them throughout the tasks, you get to improve worker efficiency with field service software.
Field service management solutions allow admins to send tasks directly to the field worker's mobile. More often than not, the field service management software provides key information, including work orders history, route optimization, preventive maintenance schedules, in-depth customizable reports to keep track of every business aspect.
This boosts efficiency by ensuring that the client's requests are taken care of promptly. When it's about machine maintenance, the downtime would be as short as possible.
More Efficiency and Productivity
Field service management solutions are known for boosting efficiency in the ways which business activities are conducted. Of course, efficiency is attained through several factors, including working with a team of professionals. Such a team, using reliable field service software, results in enhanced productivity and excellence.
Customizable Reports and Real-time Updates
Adopting the field service management software is more than just a way to improve efficiency. It goes a long way towards improving a company's accuracy. When a field service management software is used to trace a company's activities, all the tasks are tracked on the mobile device, keeping the managers informed of every step.
Achieve Customer Satisfaction
Field service management software improves customer satisfaction. How does that happen? Well, using a field service software like Repzo allows for quick response to customer queries. If there's one thing that quickly turns your customers off, it's delayed response to their requests. With the field service management software, however, you can respond to such requests quickly and effortlessly.
Inventory Management
Naturally, companies offering different repair services have plenty of assets to store. Accordingly, retrieving a specific part out of the large collection would be daunting.
With a field service application like Repzo, your field employees can track down all the products effortlessly using the GPS. Furthermore, the field service management software ensures excellent maintenance of assets.
Why Should You Invest in Repzo to Manage Your Maintenance & Field Services?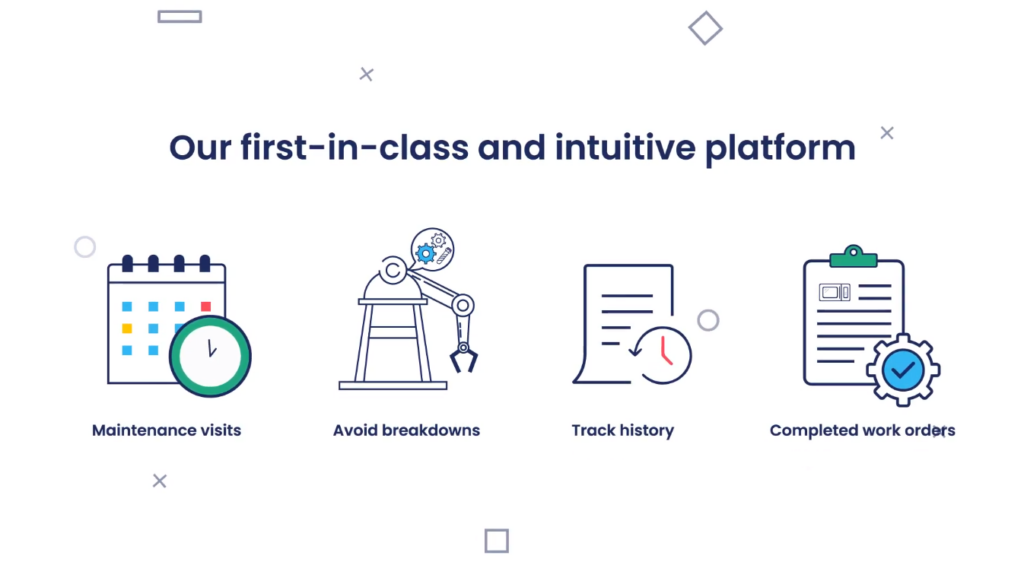 Repzo is an all-inclusive software that can be tailored to fulfill every client's needs. Our fully featured solutions can help your field team complete their daily tasks faster and smarter from any smartphone or tablet.
You can automate your field service schedules and optimize work orders based on your unique requirements, all while maintaining a real-time view of your maintenance team.
Repzo provides the flexibility to manually assign work through an intuitive calendar to make sure that you are delivering services as per a pre-defined schedule.
Navigate Our Features for the Maintenance and Field Service Providers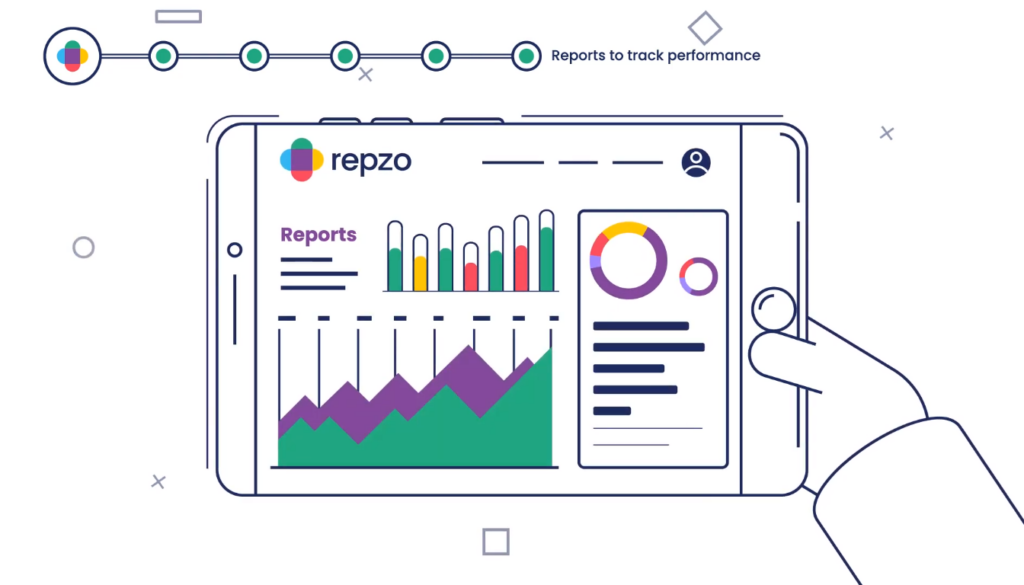 Work Orders
Create and assign work orders for field teams and track their performance using the KPIs and data metrics. Tasks can be assigned separately or collectively to selected workers through our user-friendly and advanced platform.
Reduce the risk of mishandled paperwork by automatically input work orders into a centralized system. Repzo provides smart dashboards to easily navigate work orders current status and which field workers are assigned to each task.
Preventive Maintenance Tasks
Setup on-time or recurring work orders for regular tasks like periodic machine inspections, repairs, and oil changes. Allow your customers to set preferences in terms of workers, skills, parts, and schedules.
Preventive maintenance records help technicians and field workers anticipate the appropriate time to complete a field task and know the lifespan of each part to understand how often the replacement should be done.
Having access to maintenance records prevents equipment failure, reduces costs, and ensures that your operations are running with high efficiency.
Inspections and Maintenance Checklists
Create and set for inspection checklists with a form to be filled out by workers. The inspection template can include questions regarding safety protocols, audits and assessments performed, or pass-and-fail tests for a customer asset.
Technicians can view and fill out inspections on their tablets or smartphones without internet, and their answers will be synced when their internet connection is restored.
Our cloud-based maintenance automation tools make it possible to access information regarding clients, previous visits, and inspections history to avoid any duplicate visits or unresolved requests.
Work Requests
Our cloud-based solutions enable service providers to store records of all requests and easily allocate them from multiple resources to track, assign, and edit work orders in accordance with every client's preferences.
Relying on paperless solutions helps companies focus on quality instead of wasting time and effort on repetitive and mundane tasks that can easily be automated and managed from a unified platform with today's technology.
GPS Tracking
Plan your routes and use live GPS tracking, geo-fencing and time-stamped activities to assure adherence to the planned field service routes. Create a single database of all contacts and accounts with GPS locations which allows you to build a 360-degree view of all customers. You will be able to see a list of activities your field workers are involved in and the entire history of interactions between your field workers and clients.
Visit Scheduling
Plan your field force visits and use live GPS tracking, geo-fencing and time-stamped activities to assure adherence to the planned routes. Repzo has the dynamic route optimization feature with the ability to create targets per each route based on your day-to-day business needs.
Inventory Management
Check inventory and parts availability beforehand to avoid any downtime responding to your customers' work requests. Repzo offers inventory stock levels in real-time to make sure you have enough parts for the task required.
Advanced Reports
Keep track of your team performance and see how many work orders are assigned, created, and completed. Using our robust reports will help you spot issues as soon as they occur, and generate accurate reports on time and cost across assets, teams, and equipment.
Industries We Serve
Our solutions help a wide range of sectors develop data-driven strategies and perform field services better and faster:
Manufacturing: Deliver better, faster, and more personalized manufacturing maintenance tasks with easy access to clients' data and work orders.
Hospitality: Fulfill maintenance requests for assets with the ability to access all maintenance activities and detailed history of achieved work orders.
Facility Management: Make strategic decisions by using our detailed reports and centralized platform where you can accomplish all your tasks in one place.
Food & Beverage: Ensure that your equipment is running safely and reduce the downtime with our digital audit checks and customizable inspections.
Education & Schools: Spend less time worrying about safety in your campus with Repzo's solutions for maintenance and field services.
Fleet Repair & Maintenance: Streamline your maintenance operations and see work orders by location, vehicle, or technician.