Fast moving consumer goods industry (FMCG) has different challenges due to the huge network of contributors and retailers and the large number of products to be promoted and sold.
Some old methods are still in use to manage field employees and sales, but they are an absolute headache with unnecessary paperwork and time-consuming tools to get the basics done.
But why keep holding to the belief that old methods are more affordable and easier for implementation? Salesforce automation technology comes to change the rules of the game, and many companies in multiple industries, including FMCG, have witnessed considerable increase in performance and efficiency after opting for reliable salesforce automation.
If you run a business in the FMCG industry and have doubts about how salesforce automation can serve your company, this article might be the answer to your questions and concerns.
FMCG & the Salesforce Automation
As everyone knows, FMCG is a very dynamic industry with a lot of requirements that might not be handled properly using old sales management methods.
Salesforce automation proves itself as being the best solution to professionally handle all the FMCG tasks. The implementation of SFA dramatically contributed to getting the daily tasks done with high efficiency and accuracy.
Sales reps can take advantage of the benefits offered by sales force automation to increase sales, personalize customer experience, and get the work done without worrying about the human errors and time consumption.
Activities such as live photo taking, sales orders, stock audits, and inventory management can be done from a unified applicant/dashboard.
As for admins/sales managers, they can easily track sales reps and generate detailed and accurate reports on sales, attendance, coverage, clients, and other sales aspects that can be set and customized by admins. Besides, salesforce automation helps measure field team performance and keep track of their daily activities.
How your products look on the shelves can hugely affect your sales numbers. Based on that fact, if you run a business in the FMCG industry, make sure that your salesforce automation supports your merchandising tasks, those include before/after photos, planogram, live photo taking, and Item status.
What Does Repzo Have to Offer?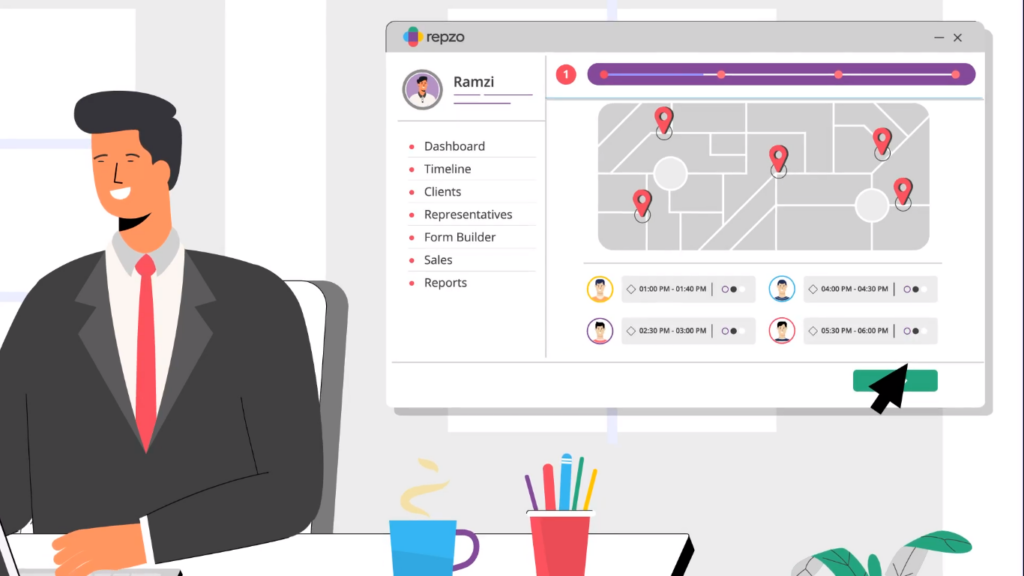 Repzo has been initially designed with the FMCG industry needs in mind, and since 2017, our solutions have been adopted by more than 200 clients in different countries across the MENA region.
Actually, the vast majority of our clients in the FMCG market have noticed a noticeable increase in their sales rates and witnessed an undeniable increase in performance and productivity. [click here to see what companies say about their experience with us]
With that said, Repzo offers a full suite of features especially designed to serve the FMCG market requirements. Features include live photos, in-field sales orders, stock audits, store check, sales analytics, and many other tools for merchandisers such as planogram and before/after photos.
The best part about Repzo application is that it enables sales reps to check their schedules, leave notes, fill out forms, all from a simple and user-friendly mobile application.
In terms of compatibility, Repzo mobile application is compatible with both iOS and Android, and can be connected to a printer via Bluetooth technology.
We did not forget about admins; they are provided with the latest technologies and tools to track sales reps in real-time using our GPS tracker and measure performance using intuitive BI dashboards, reports and KPIs.
Long story short, Repzo offers the following:
Simple and easy-to-use mobile application that supports both English and Arabic
Real-time GPS tracking
Retail execution tools
Options for merchandisers
Accurate and detailed reports and analytics
Wrapping Up
To conclude, salesforce automation has become an essential tool to better manage field sales and monitor salesforce. It came to replace the old methods and offer a more reliable solution that saves both time and effort.